BELMONT
Transportation: C/D to Fordham Road; Bx9, Bx12, Bx17, Bx19 Bx22 buses
---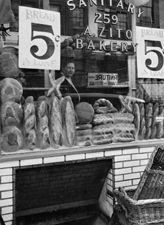 If you've ever been to the great city of New York, you will have no doubt been accosted and dragged to that bastion of tediousness known as Little Italy. It stands as a testament to the insidious nature of the tourist industry, as an entire ethnicity is made to stand up and play its stereotypes and prance in them before your very eyes. If you want to see real Italians, go to Belmont, the only Little Italy worth any mention.
Belmont is wedged against Bronx Park (sit of the Bronx Zoo) and is unforntunately shrinking day by day. However, unlike the Little Italy of Mulberry Street, real Italians still work and live in this tucked-away corner of the Bronx. Its borders are roughly Arthur Avenue to the West, Fordham Road to the North, Bronx Park/Southern Boulevard to the East and Crescent Avenue to the South. A walk along Arthur Avenue will show you all you need to see - nice two story houses, the Arthur Avenue Pushcart Market, the Italian- American Theater Guild, and of course, some fine Italian eating. The intersection of Belmont Avenue and 187th Street is known as Doo-Wop Corner, and was at one time the center of this lost musical art. Contrary to popular belief, doo-wop, like soul, was a poor/working man's music, which especially in New York was sung street corner to street corner by the city's poor Blacks, Hispanics and Italians.
The neighborhood is still populated with old-style Italian bakeries, delis and butchers. It maintains the same character it had as long ago as the fifties. You can see this for yourself in Robert DeNiro's "A Bronx Tale," which was based on the neighborhood and used it for filming. The age of the areas residents, however, indicates that it may not be this way for very long. A short walk in any direction will land you in a neighborhood decidedly un-Italian. So while you still can, walk along 187th Street, buy some canoles and zeppoles, dodge the tuxedo and sunglasses crowd outside the local church, and revel in the good ol' days for a while.
---