THE LOWER EAST SIDE
Transportation: F train to Second Avenue, B/D/Q train to Grand Stret. M/J/Z train to Delancey Street or the Bowery; M14, M9, B39 buses
---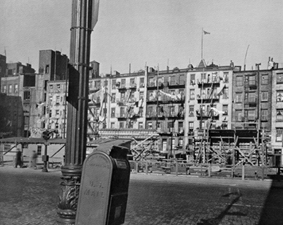 For nearly all of its existence, the Lower East Side has been where New York crams its masses of swarthy and unwanted immigrants. 150 years it was the site of the infamous Five Corners, where Irish emigres took turns killing eachother in gangs with names like the Dead Rabbits and the Plug Uglies. 50 years ago all the Jews and Italians that could fit there did, overrunning the streets with push carts and shouts in Yiddish and Sicilian. More recently it is populated with varying Latino nationalities, from Puerto Rican to Peruvian. One thing that has always characterized the neighborhood, however, has been the fact that no one group dominates. It is not a ghetto in the sense that it has never been one mass of homogenous downtrodden. In actuality it is one of Manhattan's truly integrated neighborhoods, and just about the only real working neighborhood south of 42nd Street.
The Lower East Side is vaguely bounded by Houston Street in the North, the Bowery in the West, Grand Street in the south, and the East River in the East. The buildings are almost uniformly of the three or four-floor decrepit brownstone type, and it is obvious that very little construction has gone on for quite some time. Orchard Street, the historical shopping center, still contains many apparel stores, leftovers from the Jewish tailor era long gone. Houston Street is hip to the core on its north side, because this leads to the East Village. The East Village used to be known as part of LES, but decided it was too good for that when yuppies started moving in back in the 80's. Now it's hardly worth talking about (at least West of Avenue B). The South side of Houston street retains some old-world autonomy, with Katz's Deli, Yonah Shimmel's Knish Bakery and a number of other ethnic food establishments. Delancey Street, which leads up to the Williamsburgh Bridge, is another shopping street of woeful distinction, with an abnormal number of fast food restaurants and clothing stores. There is still enough here to satisfy the distinguishing palate, like a number of 24 hour diners and pizza joints with more genuine tastes. Essex Street has the largest evidence of the area's former population, with a number of Judaica stores and shriveling yeshivas. Check out Gus' Pickles - good stuff. Walk down any side street for a sampling of the current residents' tastes - plenty of Latin-American restaurants, bodegas and the occasional social club
For a real taste of the Lower East Side, walk East on Rivington Street starting from the Bowery. Walk past the Housing projects and the woeful Sara Roosevelt Park (a highway median really). Pass by the futon and drapery stores on Christie Street. Pass by the Economy Candy Store, one of NY's last real candy stores. Check out Streit's Matzos factory (closed on Saturdays of course). Check out ABC No Rio, a part of the LES's anarcho-squat heritage. A block away and you're walking past the Lower Manhattan office of the NRA. Wonder why it's located here. A little walk further and you're into housing project until the East River. This whole time, see how many abandoned synagogues you can count.
After you've done all of this, ask yourself some questions. For instance, in the geological sense, how long ago is 40 years ago? Not a lot. And how much has this place changed in that time? And were any of your forebears located here way back when? And if so, what makes you think they were any different from the folks who make their home there now? Did they speak English the second they stepped off the boat? How many generations did it take for them to get out of here? And what are they doing with themselves now to justify it?
Maybe you've never been here, but it's more of you than you even realize
---