WHERE WE IS
---
Tune here to find out where the exciting young rapscalions are debuting their brand new style next!
---
A secret plan is currently being enacted. Record Ignite is currently not at liberty to discuss its details. Sufice to say that the Big Apple will soon not know what hit it.

---
Meanwhile, if you can't catch them near your home town on tour this summer, satisfy your soul with these fliers from previous RECORD IGNITE! shows.
---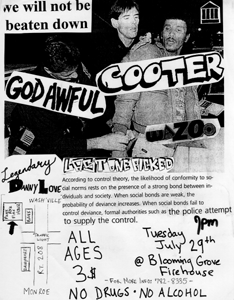 RECORD IGNITE!'s first auspicious gig, at the Punk Rock Fire House.
Songs:
The Agony and the Irony
Silent Goodbye
Again
Role Model
[A Very Bad Cover of]Great Cop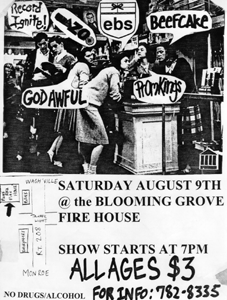 PROM KINGS 7-inch release party, full of peanut butter smearing, physical and emotional battery, and permanent banning from the confines of the Southern Blooming Grove Volunteer Fire Department Station House.
Songs:
The Agony and the Irony
Silent Goodbye
Again
Role Model
Reparations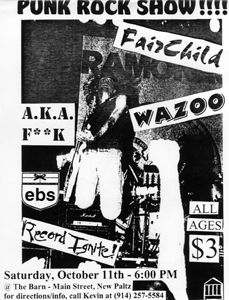 The gig did not occur in New Paltz, as the flier seems to indicate, thanks to the venue known as the Barn being shut down for structural reasons. The action was trasnferred to Town Hall (minus Fairchild and AKA F**K) and a wonderful, bruising time was had by all. RECORD IGNITE! were collectively interviewed for a local zine called PUNK COCK, so keep an eye out for it soon, ladies and germs.
Songs:
Record Ignite! Full On Intro
All Signs Point to Yes
The Agony and the Irony
Silent Goodbye
Parting Wishes
Reparations
Again
Role Model
Sleepwalker
Generally regarded by those who attended as one of the best Town Hall shows ever, there was plenty of mayhem for everyone included - Little Beast shoving both Mangin and Shaw, free demos and the official Record Ignite! Cover Contest (which no one won)
Songs:
Silent Goodbye
All Signs Point to Yes
Again
Role Model
Parting Wishes
Reparations
Sleepwalker
I Got A Right
You Belong To Me
The Agony and the Irony
Adam fell from the stage, Ryan broke seven strings on a six-string guitar, Matt feel down and hung from the roof beams, and thanks to Joe they were all wearing shirts and ties. Messy but awesome. Mike Shaw nearly killed everyone in his excitement (especially K-Rock).
Songs:
All Signs Point To Yes
Reparations
The Agony and the Irony
Again
Role Model
I Got a Right
You Belong to Me
Sleepwalker
Silent Goodbye

God Awful and Record Ignite! on one bill? Sounds like trouble for the city that never sleeps. While the gig did not go as well as planned due to unannouced scheduling changes that bewildered us all, those who stuck around got what they paid for. A blood soaked set list will attest to that. Ryan has not yet decided whether he will wash off his guitar or not.
Songs:
The Agony and the Irony
Reparations
All Signs Point to Yes
Sleepwalker
Instant Win Game [its name for now, anyway]
Parting Wishes
I Got a Right
You Belong to Me
Again
Role Model
Silent Goodbye
RECORD IGNITE! @ CBGB, DECEMBER 23 1997
Guitar straps and strings broke left and right, and for once it was more due to bad luck than hard rocking. The audition was not passed, but we did get a halfway decent tape out of the effort.
VALENTINE'S DAY, 1998 w/ Bugluv, the Gromits, Wazoo, EBS and God Awful
Lots of stomping, dancing and carrying on. Quite possibly the smoothest running Town Hall show ever, making the evil Vito's decision to fuck us over that much more inexplicable.
MARCH 28th 1998 - TOWN HALL w/ Bugluv, The Lepers, Wazoo and God Awful
A lovingly typical Town Hall gig with the commensurate head-kicking, ass-moving and rafter-hanging. The cops shut down the festivities in the middle of RI!'s gig, but the faithful few who stuck around after the 5-0 got there were treated to an intimate set in Ryan's kitchen
MARCH 29th 1998 - THE ECLIPSE, MIDDLETOWN, NY w/ The SellOuts, EBS, Jerk Magnet, God Awful
Despite Marco's stated intention to "break the ass" of anyone caught touching the Eclipse's copious glass lined walls, a great time was had by all. The parking lot took on the feel of an LA suburb, circa 1985, with Black Flag tunes blasting over the Pizz Hut and into the loving air.
APRIL 3rd, 1998 - GOSHEN HIGH SCHOOL - w/Flipside
We're still not sure how we got to play for the Goshen Senior Class of 1998, and even less sure that we played it. The huge stage of the GHS auditorium had less than ideal acoustics, but for once vocals were heard clearly. A small victory.>
APRIL 20TH, 1998 - CBGB AUDITION
Exploding cars and schizophrenic amps seemed to extend the Town Hall curse to yet another CB's audition. Yet rock prevailed, and apparently the powers that be were impressed. Thusly, RI! has become the first Town Hall band to pass a CB's audition. Keep an eye out on Bowery from now on.
THE TOWN HALL COMPANY PICNIC - JUNE 7TH, 1998
w/ WAZOO and GOD AWFUL
To say that things went as planned would be something of a lie. However, park officials kept the pigs at bay, the rain mostly held off, and the PA made for excellent ooutdoor sound. Town Hall capi look forward to doing it again, and maybe getting arrested this time.
TOWN HALL ANCHORS AWAY GIG, THURSDAY JUNE 26TH, 1998, LEDGE INN, GREENWOOD LAKE
w/The Locals, Secret Police, EBS,, WAZOO and GOD AWFUL
Due to the good graces of Halps and the Ledge Inn ownership, our boys got sent off in style, playing to sick well wishers in something close to the Black Hole of Calcutta. This should be noted as the debut of the impromptu RI! set, as no set list was used, nor will any be for the duration of the tour. So there. See you in the funn pages